Get Better Results With Fitness Coaching!
You will never again be alone in your fitness journey with 24-7 access to your fitness coach via phone, fax or email.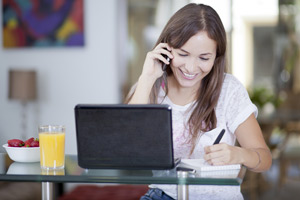 Fitness coaching is much more than a phone call or email. The combination of the Motivational Activity Monitors, the coaching diaries, the focus and guidance of an exercise expert, and accessibility to your coach all week, makes fitness coaching more successful than any other approach to personalized fitness training.
Healthy Balance Fitness' fitness coaching is based on the proven model of Fitness by Phone, which leverages a concept called compliance programming confirmed by over 20 years of research at Stanford Research Center.
If you are someone that needs and enjoys accountability and can record your progress Fitness Coaching is for you. Fitness Coaching is best for people who have fluctuating schedules but can commit to one phone call per week and have access to e-mail. It is ideal for the busy person who is trying to balance work, family and personal care. Fitness Coaching allows you maximum flexibility and provides a system for keeping self-care on your maxed-out to-do list.
GIVE IT A TRY! CALL 310-200-6223 TODAY FOR A COMPLIMENTARY CONSULTATION!