Weight Loss
The biggest challenges we face seem colossal when we have to face them alone. To break old, unhealthy habits and start new, healthy ones, you need a mentor, a friend, a health coach. That's us.
Health Coaching
One-on-One mentorship from someone that cares about you and your health offering you encouragement, wisdom and support.
When it comes to turning healthy behaviors into habits, a Health Coach makes all the difference. Scientific research shows that having support improves your chances of getting–and staying–healthy.
Healthy Eating
Create health in your life through well-balanced meals.
A nutrition plan that includes delicious, medically formulated meal replacements of every variety as well as your own lean, healthy meals, all designed to keep you full and satisfied while you lose weight.
For individuals struggling to control the quantity and quality of their foods, meal replacements are an ideal alternative to cooking or dining out. Balanced, fortified, delicious meal replacements are safe and satisfying, especially when supplemented with a daily meal of lean meats and green vegetables.
 Habits of Health
A system for choosing healthier options and making it a habit for you.
A guide to making good habits a part of your everyday life so that choosing the healthy solution becomes a routine that feels as natural as breathing.
It's not your fault that you're struggling with your weight.  Through working with a health coach and using the right tools and support your unhealthy habits can quickly change. Our comprehensive healthy lifestyle program can help you safely and effectively reach and maintain a healthy weight and adopt habits for a lifetime of health. You will start to have more energy and feel better than ever while reaching your optimal health.
My Health Coaching Story
I have been active my entire life. I love to workout. I love to run. And most importantly I love the feeling I have when I am strong and in great shape. I generally eat pretty healthy but don't deprive myself of anything.
Over the years I've always had a 5lb window that my weight would fluctuate within. After having two children my 5lb "weight" window kept creeping up. I still exercised and ate healthy but I found myself slipping into some unhealthy habits. It was too easy to eat off my children's plates or fix something that wasn't necessarily the healthiest because it was fast and easy.
I was introduced to health coaching as something to add to my business to help my clients. Because I would never recommend something I haven't really tried myself I became my own guinea pig and signed up as a coaching client. I was totally surprised how much it helped me.
Through working with a health coach and using the right tools and support my unhealthy habits quickly changed and that 5lb window came down. I started to have more energy and feel even better than before. I can't say enough about how wonderful health coaching is!  I became a certified health coach and am now paying it forward to my clients, family and friends.
Here is a picture of me just before I started the health coaching program and me now. Still active and healthy but feeling better than ever.
If I can help you feel your best and get rid of the unhealthy habits standing in your way of Optimal Health let me know.
Health Coaching Success Stories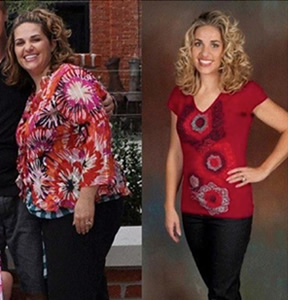 Gina's Story – 2 1/2 years ago I had given up hope that I would ever be at a healthy weight. I had tried everything under the moon and nothing seemed to work. As a mom of 6 children, I had no energy or strength to make it through each day.  After reaching out to several friends who had lost weight, I found a common thread they had begun a lifestyle change that included learning and implementing the healthy habits. No longer looking for a quick fix, but a healthy lifestyle, I lost 65lbs in 6 months and gained freedom to chase after my littles!

Shane and Susan have lost 80 lbs total combined and kept it off for over 3 years.  Shane's blood pressure is now within a healthy range.  After Susan had their second child she tried to get back to her pre-pregnancy weight by exercising 5-6 days a week with little success and had lost hope believing this was her new reality.  This program has not only helped them get to a healthy weight, it has helped them create the lifestyle and habits to keep the weight off.  They are now thriving in all areas of their life and have the energy to be active with their kids…biking, swimming and on the fields coaching their sports teams!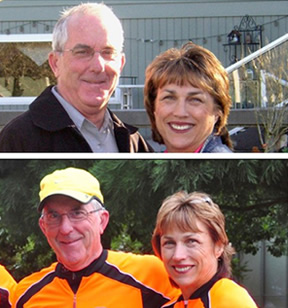 In May of 2009 we realized there was more to life than the poor habits that had crept into our lives.   After spending 40 years chasing a diet, Lynda began to chase something else; a healthy lifestyle.  As Rod noticed Lynda's successful results, he joined in and together began a new journey.  Within a few months we both lost 45 lbs. and began walking regularly.   After Rod had knee surgery, the doctor advised swimming or bike riding for healthy exercise.  Rod started biking to work and became a cyclist, participating in century fundraising rides. In 2013 Lynda joined Rod as a stoker on a tandem bike and together completed the MS Ride!