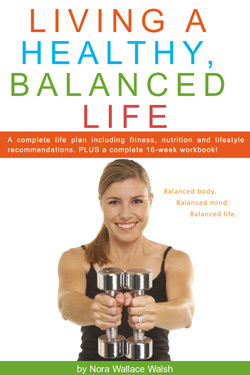 Order Now! $19.95
Here's what you will find inside the pages of
Living a Healthy, Balanced Life:
10 Critical Elements of a Healthy, Balanced Life
How to Create a Healthy, Balanced Exercise Program
A Healthier Way of Eating
A 16-week Program and Healthy Balance Workbook
Living a healthy, balanced life is about more than a number on the scale or a dress size…rather, it is about finding the space in your life to take care of yourself and enjoy the things you enjoy doing. With proper exercise and nutrition, you can feel good and be strong enough to handle all that life throws at you each day.
If you have been struggling to manage your health, fitness, and life, you are not alone. So many of us run around trying to do for others before we do anything for ourselves, and then find ourselves over worked, over stressed, and over tired at the end of the day.
I can directly relate to what you are feeling. I, too, spend my days juggling my family, career, home, friends, exercise, and sleep. The list goes on and on. It wasn't until I really looked at what my priorities in life were that I found that there was a way to create and work towards a healthy balance in my life.
I realized that having a healthy balance in life is an ever-evolving process. It is all about making choices that lead to a better way of living. A healthy balanced life is not a destination but a journey.
I hope this workbook helps you on your journey to Living a Healthy Balanced Life!