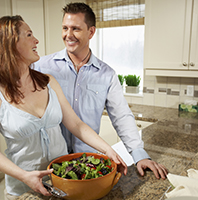 Meal Planning 101
September is a time of transition. The weather's hopefully getting cooler, school is back in session, and we'll begin spending more time indoors. And while we'll have the same amount of it, we're likely to feel a little more strapped for it.
If you work outside the home, dinner preparation can be even harder in the cooler months, when commutes take longer and organized activities increase. The busier you are, the more important it becomes to focus on meal planning; otherwise, it can be easy to fall prey to less healthy choices.
Your best plan for success? A plan! Meal planning keeps you and your family well fed all week, with your health the top priority.
Here are just a few benefits of meal planning:
It promotes health.
A focus on good nutrition throughout the week helps you stay in control, especially on hectic days, when you need it most.
It saves time.
Meal planning takes just a few minutes each week, and it reduces last-minute trips to the store and last-minute decisions when you're already hungry.
It saves money.
Running back and forth to the store consumes more than time. Following your plan allows you to take advantage of specials and keeps you from getting things you don't need—things that may spoil if you don't get to use them in time.
It reduces stress.
Having to come up with a healthy solution on the spot is stressful. Planning ditches the anxiety.
It adds variety.
Planning allows you to try recipes you have always wanted to try, which lets you make use of ingredients you don't have on hand regularly.
Don't know where to begin? Start your meal planning with these simple steps:
Step 1: Visualize the week ahead.
What's going on this week? Do you have special events or activities that center around food? Will you be on the run at mealtime? Jot down some notes.
Step 2: Plan your meals.
On days when you have more time, choose meals that take a little longer to prepare, but double up, so you can either freeze some or eat leftovers on the busy nights—or, even better, both! You can make double batches of foods that freeze well—soups, casseroles, chicken breasts, meatloaves, stuffed peppers, and anything without creamy sauces. (Tips: Cool them quickly before freezing [in a pan of ice water, for instance]. Leave a little room for liquids before freezing; wrap meats tightly.)
Step 3: Make a grocery list, and go shopping.
As you plan, keep a list of what you'll need to make each meal. Be sure to stock your kitchen with healthy staples. Keep fresh and frozen vegetables on hand. Have lean protein such as chicken, fish, and lean ground beef in the freezer. Load up on canned goods, liked diced tomatoes, vegetable broths, and beans. Build an arsenal of healthy fats, like canola and olive oil, nuts, nut butters, and seeds.
Before you go, take a peek at our list of meal planning tips.
Set aside time each week to plan meals. Choose a planning day, if possible, and stick to that schedule. In no time, it will feel less like work and more like your normal groove.
Save your weekly meal plans. After a few weeks, you'll know what worked best, and you can use that plan again.
Plan next week's meals with this week's perishables. Have half a can of diced tomatoes in the fridge? Some celery that's turning yellow? Soup's on!.
Recruit helpers. Make meal planning and prep a family affair. Kids like it, and it lets family members feel like they have some say, too!
Budget. Build meals around weekly specials advertised in circulars. Hit the farmers' markets, too.
Cook or prep ahead. If you have too many events and activities, do a little prep work on the weekends. You can cut fruits and vegetables and even portion out spices. Bake chicken breasts. Make a pot of soup and a large salad to keep in the fridge.
Slow cook. Few things are faster than a crockpot dinner. Throw the ingredients in your pot in the morning, and turn it on. Dinner's ready at the end of your day.
Have fun! Food is flavorful, aromatic, and colorful, so take every opportunity to build on your new relationship with the healthy ones by making new recipes and spending cooking time with your family.